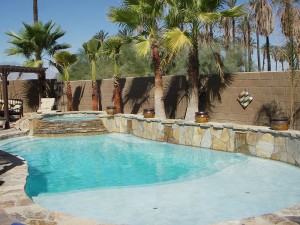 Kancun Pools and Spas offers a wide variety of pebble, natural stone, tile and plaster finishes that will give a touch of pizzazz to your pool area!
ColorScapes is a pool finish created with ceramic quartz crystals that makes for tasteful, decorative, easy to walk on colors.
PlasterScapes tinted pool plaster features nature's hues in consistent, enduring colors.
StoneScapes come in a wide array of sizes, colors and finishes.
QuartzScapes are an electrifying blend of crushed quartz, color tints and white cement. The beauty of the finish endures as a testament to your good taste!
Beadcrete uses high-quality, modified cements, advanced pigment technologies and smooth-to-the-touch inert glass beads to provide a unique, classy finish.