Enhance your poolside environment and stimulate your senses with LED pool lighting. Our LED options, white lighting, niches and low wattage transformers will create the backyard ambience you are looking for in your poolside paradise.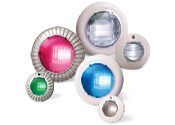 If you're looking to enhance your poolside environment, LED pool lighting can help you customize your backyard in a variety of aesthetically pleasing ways. Our pool lighting systems allow you to fine-tune your pool environment according to your tastes, resulting in a custom-made paradise that encompasses the entire pool area-it's a highly effective method of stimulating the senses.
Please click here to view a list of supported Universal CrystaLogic/ColorLogic niches.